"You and L.J. were a delight at the Long Grove Arts and Music Council's concert on June 8th. Thanks a million and I really believe you two are a wonderful combination."  
Reid Olson, Long Grove Arts and Music Council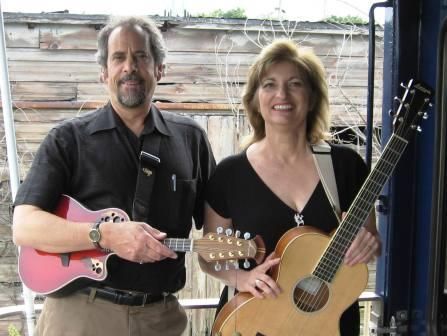 We're Patti Ecker and L.J. Slavin — the Red Oak String Band. We perform as a duo, trio or a full band. Our experience is wide and our repertoire is deep — we started playing Bluegrass and Old Time music together, but soon added Celtic tunes, jazz standards and some lively rock and pop arrangements -- and even light classical!
We met while both of us were on the teaching staff at The Old Town School of Folk Music. Since then, we've performed at corporate events, private parties, special events and children's concerts throughout Chicagoland and the Midwest.
Let us tailor an event for you!
Recent Performances:
Chicago Public Library Book Beats Summer Reading Tour; Long Grove Arts and Music Summer Concert Series; Deerfield Farmer's Market; Compass School (Naperville); Friendship Village; CordiaSenior Living; Luther Village;  St.Charles Sportsman's Club; Naperville Breakfast with Santa; Arlington Heights Summer Concert Series; Glenview "Little Bearfoot in the Park" Concert; Chicago Yacht Club; Belmont Yacht Club; Lisle Depot Days; Autumn on Parade (Oregon, IL); Downer's Grove Heritage Fest; Berwyn Centennial Celebration; Chicago Botanical Gardens; Chicago Historical Museum; Old Town School of Folk Music Jamboree; Grove Folk Fest; Fourth of July events at: Elmhurst, Skokie, Grayslake, Zion, Hoffman Estates, Oak Park.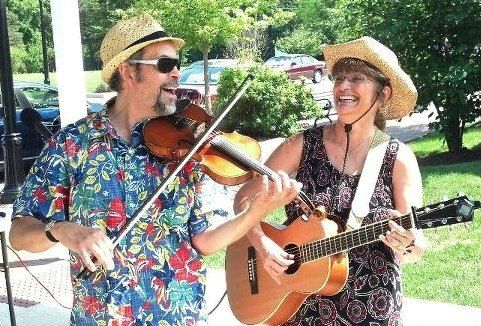 Sign up for Patti's email updates
Previous events
Patti Ecker - A Bit of Blarney
St. Patrick's Day Songs, including MacNamara's Band, Danny Boy, and an Irish lullaby or two. Plus, pub songs like The Unicorn, and a tall tale about a wee Leprechaun and his pot of gold! With guitar, banjo, spoons and Irish drum.
Private Memory Care Performance
Patti Ecker - Mardi Gras Time!
Laissez les bons temps rouler! Come to the Carnival right at home with New Orleans favorites like Iko Iko, When the Saints Go Marching In, Just a Closer Walk With Thee, Jambalaya and many classics from the King of Jazz, Louis Armstrong. Guitar, banjo, mandolin.
Private Performance
Graphic design consulting provided by: