"Ecker's expressive, conversational vocal style works no matter what the genre . . ."
Chip Withrow, The Muse's Muse Reviews
Enter the versatile, eclectic world of Patti Ecker, Chicagoland singer, songwriter, multi-instrumentalist and energetic entertainer.
Come on in and browse around! You'll find information on Patti's senior programs, kids' shows, programs with Paddy Lynn, old-time programs with L.J. Slavin, Steampunk shows, historical programs, original music and much more!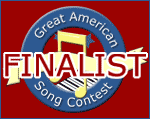 Great American Song Contest Finalist for "Elsie"