Singer-Songwriter
"I know what she can do. She can write songs. The blues and jazz are buried deep within her, and maybe that is why she has that aura of the stage."   
Frank Gutch, FAME Music Reviews
 

"Patti Ecker is a gifted songwriter in many styles, and a singer who can tackle any kind of song."   
Chip Withrow, The Muse's Muse Music Reviews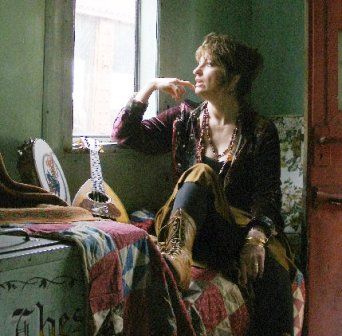 Bio (For folk and singer/songwriter venues)
With a performing style that embraces the audience, Patti Ecker plays guitar in a strong, percussive style that complements her warm, soulful voice. She sings classic and torchy tunes, but she can tickle and surprise you with her quirky, slice-of-life compositions and absolutely break your heart with her ballads and blues.
Partnering with actors Paddy and Jon Lynn, Patti has joined the Illinois Humanities Council's 2018 Road Scholars roster for "Spoon River Anthology." From 1999-2013, Patti was a teaching artist for the Old Town School of Folk Music's Youth Outreach program. Patti's original songs "Elsie" and "Indifferent Love" each received an Honorable Mention in the 2008 Great Lakes Songwriting Contest, and "Elsie" was a Finalist in the 2009 Great American Song Contest.
Buy "Gypsy Lover's Eyes" CD
Thirteen original acoustic-driven rootsy-folk/retro-jazz/dark-blues/power-pop songs and one torchy vintage cover tune--clever, eclectic and soulful.
Sign up for Patti's email updates
Previous events
St. Patrick's Day Songs, including MacNamara's Band, Danny Boy, and an Irish lullaby or two. Plus, pub songs like The Unicorn, and a tall tale about a wee Leprechaun and his pot of gold! With guitar, banjo, spoons and Irish drum.
Private Memory Care Performance
Laissez les bons temps rouler! Come to the Carnival right at home with New Orleans favorites like Iko Iko, When the Saints Go Marching In, Just a Closer Walk With Thee, Jambalaya and many classics from the King of Jazz, Louis Armstrong. Guitar, banjo, mandolin.
Private Performance